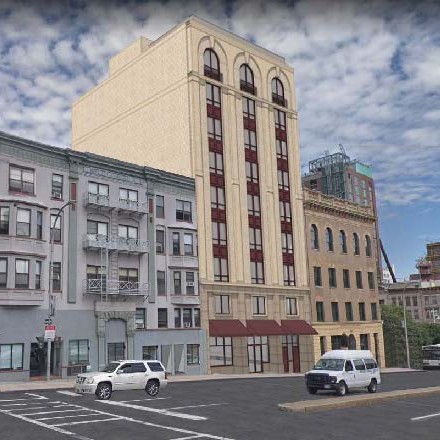 Erin Construction Will Develop 9-Story Mixed-Use Building in Yonkers' Getty Square
New York, NY – August 26, 2019 – Erin Construction and Development, Inc. is expanding its real estate development portfolio with a nine-story, mixed-use development at 9-11 Riverdale Avenue in Yonkers, New York. Currently a vacant lot along a prime corridor of Getty Square, the new development will retain the current look of the existing streetscape while adding a modern touch and modern amenities.
9-11 Riverdale Avenue will house 29 rental apartments over approximately 15,000 square feet. The apartment mix will include six studios, 21 one-bedroom units and two two-bedroom units, as well as a 700-square foot community space ideal for telecommuters and a rooftop terrace with sweeping views of the Hudson Valley. Two ground floor commercial spaces totaling 2,150 square feet will help further activate the street level environment. 
The surrounding Getty Square neighborhood boasts farmers' markets, a Groundwork CSA, and thriving restaurants spanning a variety of global cuisines, including famed Xaviar's on the Waterfront, located on the landmarked Yonkers Municipal Pier. With a WalkScore of 95 out of 100 (the highest of any neighborhood in Westchester), Getty Square is one of the best places in Westchester County to be car-free. 
"9-11 Riverdale will meet the growing demand for modern, amenity-filled housing at reasonable rates," said Erin Construction COO Alana Smith. "Because of our deep experience in affordable housing, we're experts at delivering superior results within pre-established, and often constrained, budgets. For 9-11 Riverdale, we can meet the market needs without pricing out that same market."
Since its founding in 1991, Erin has participated in the redevelopment and preservation of thousands of quality  multi-family housing in New York City and the metro area. Often partnering with non-profit, mission-driven organizations, Erin delivers outstanding value to the diverse needs of their clients and as a result, has experienced exponential growth. 
Financing is being provided by the Community Preservation Corporation (CPC), a leading mortgage lender for community revitalization projects in the Hudson Valley. Melville, NY-based firm H2M will serve as project architects. Other development team members include land use counsel Zarin Steinmetz and closing counsel Goldstein Hall PLLC. Construction is slated to begin in Fall 2019.