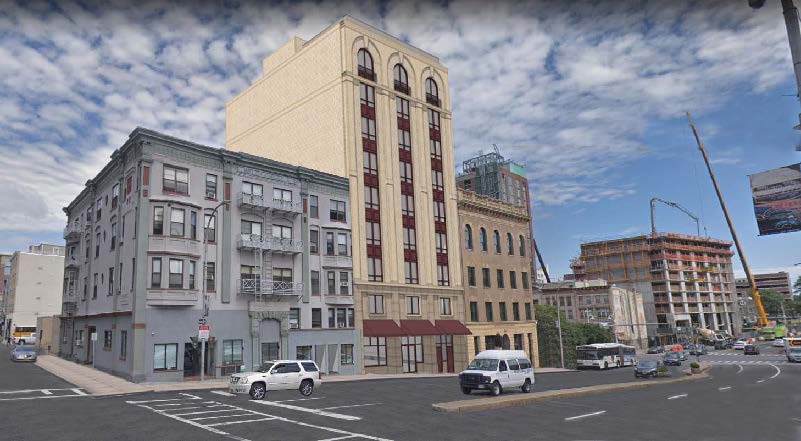 9-11 Riverdale Avenue in Yonkers, NY
Category: Mixed-Used Development | Year: 2019
| Place: Yonkers, NY
Currently a vacant lot along a prime corridor of Getty Square, Yonkers, we plan to create a mixed used project that retains the current look of the existing streetscape but with a modern touch. In maximizing what's allowable under the DMX zoning code for downtown, Erin was awarded Planning Board approval to improve upon the vacant lot with a 9-story mixed use residential and commercial building that will house 29 rental apartments over approximately 15,000 square feet and two ground floor commercial spaces totalling 2,150 square feet. Apartment mix is six (6) studios, 21 one bedrooms and two (2) two bedrooms. There will be a roof top terrace, a common area of 700 square feet for resident use only, basement storage and bike rack.
9-11 Riverdale Avenue is located within the neighborhood of Getty Square, a dense and growing residential part of Yonkers with a bustling and vibrant retail shopping environment. There are farmers' markets, a CSA and thriving restaurants of all cuisines. Getty Square's heavy pedestrian foot traffic is bolstered by its role as a key transit hub of Yonkers and Westchester. Bee-Line buses, MTA express buses, Metro-North Railroad, and Amtrak converge in Getty Square and connections are often little more than a few blocks. Getty Square's WalkScore of 95 out of 100 is the highest of any neighborhood in Westchester, making it one of the best places in Westchester County to be car-free. The neighborhood enjoys close access to the waterfront which has benefited from a targeted Master Plan to extend and improve upon its use as evidenced by more activity centered around the Landmarked Pier and beyond.
Erin is complemented by an outstanding group of development team members from:
Architect/H2M – H2M is a multi-disciplined, professional design and consulting firm located in the NY metro area. They retain staff resources of over 350 employees with specializations in mechanical, electrical, water supply, sanitary, chemical, civil, traffic and structural in architectural and engineering, respectively, geologists, hydrogeologists, environmental scientists, surveyors and related technical support personnel. H2M has completed thousands of private, public and municipal projects for dozens of federal, state and local agencies and governments.
Land Use Counsel/Zarin Steinmetz – Zarin Steinmetz is well known throughout the New York metropolitan area, specifically the Hudson Valley, for its concentration in all aspects of land development. They represent private and municipal clients in zoning and land use, environmental law (including SEQRA/NEPA), solid and hazardous waste, real estate and business transactions, eminent domain, and related litigation in state and federal courts. Their mission is to satisfy our clients' demands through legal excellence, attorney accessibility and responsiveness, sound judgment, and cost efficiency.
Closing Counsel/Goldstein Hall –Goldstein Hall PLLC is a full service real estate law firm with a concentration in affordable housing and community development. Since their inception in 2006, they have been proud to continue to enhance our reputation as a smart, reputable, and responsive firm. As a certified Benefit Corporation (B-Corp), their mission goes beyond just legal representation as a socially responsible firm to act as change agents for the communities and residents they work with, as well as for serving our clients legal and consulting needs.